---
Chiron evaluates InfoSec operators based on
2,020 elements of the knowledge, skills and abilities and tasks
outlined by the National Initiative for Cybersecurity Education
Cybersecurity Workforce Framework
Why We Evaluate
---
Every InfoSec operator is equipped with varying degrees of knowledge, instinct, skill, certification, methodology and technical capability.
The cumulative value of these qualities comprises a student's tradecraft. Our goal in the evaluation phase is to understand this tradecraft, so we have a benchmark to measure improvement, and a platform to orient an operator's training regimen.
This representa a departure from the traditional pass-and-fail learning methodologies that hold students to specific knowledge standards. Chiron's evaluation is what separates learning, the acquisition of knowledge and subsequent proof of conformance to rigid standards, from improvement - or what we call tradecraft enhancement.
How We Evaluate
---
Chiron's qualification evaluation for students is a day-long event where we administer classic multiple-choice and fill-in-the-blank questions. The purpose of this event is to test knowledge, and proctor interactive, performance-based activities to assess real-world skills and abilities.
Chiron's proprietary evaluation template was developed by in-house InfoSec researchers to identify NWF tasks that apply to our course offerings. Our researchers have associated approximately 20 KSAs with each task. Through evaluation qualification, we determine competency and mastery of said tasks.
Students receive one of the following grades based on the results of their assessment, which may be used to guide follow-on course selections:
Qualified students are eligible to advance to one of the following Chiron certification programs: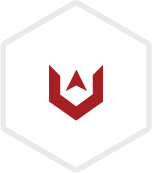 Cyber Threat Emulation Professional™
(CTEP)™
Discovery and Counter-Infiltration Professional™
(DCIP)™
At the end of our evaluation process, Chiron will provide students with a detailed qualification report describing their performance on knowledge for each critical task, as well as their readiness for various work roles and areas for continued training.
What's at stake
---
With each passing year, criminal hackers become bolder, more organized and more successful at infiltrating targets organizations in the private and public sectors.
Consequently, the amount of damage black hats cause to the global economy continues to increase. Unfortunately, so does the number of InfoSec job vacancies that need to be filled.
For organizations to respond to new threats, they need mission-ready InfoSec talent that evaluated

based on its conformance to industry standards developed and recognized by the U.S. Government. The new generation of InfoSec operators must be able to excel within the status-quo threatscape.
Chiron makes these distinctions early in course offerings by evaluating all of its students with a core question in mind:
What qualities does the operator exhibit when placed in live-fire InfoSec scenarios?
The answer to this question will render a nuanced profile of each operator's tradecraft. This becomes the foundation for the student's training, which will ultimately make him or her better than the status-quo adversary.